Vinyl Stickers
Durable, weather proof, full colour vinyl stickers from PrintPrint

At PrintPrint we create all kinds of custom vinyl stickers and adhesive decals. Our vinyl stickers are created using seven year weather proof self-adhesive vinyl, so they are terrific for both indoor and outdoor use. Vinyl stickers can be applied to car bumpers and windows, lamp posts, walls, laptops, and nearly any other flat surface in or outdoors. We stock a virtually limitless variety of different colored inks and vinyl stocks. All of our vinyl stickers can be die-cut into custom shapes for an additional fee.
Cut vinyl lettering is often used for glass door and retail window displays. You can use vinyl lettering to mark vehicles with their fleet number, or to prominently display your company web site address or phone number on your company vehicle. Application is as easy as peeling and sticking on the letters.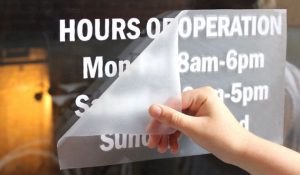 Cut vinyl is ideal for storefront windows and all types of unique marketing ideas.
Our vinyl stickers are printed adhesive backed and can be printed reversed to be inside facing out, for use on windows and see-through surfaces, or outside facing in, for use on walls and opaque surfaces. If you are not sure exactly what you require we would be happy to assist you in selecting the appropriate vinyl lettering or vinyl sticker solution for your project.
Most orders can be completed in approx. 1 to 2 business days, but we are happy to try and accommodate your specific timeline. Call or email for details and pricing on your vinyl sticker printing project. In most cases we can turn around our vinyl stickers for the same day or next day's delivery, depending on our current workload. Simply call us for an exact quote on your vinyl sticker printing project, and a target delivery time.