Sandwich Boards (A-Boards)
Stop them in their tracks with a custom printed A-board sign!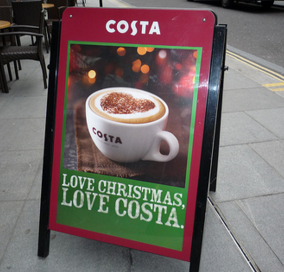 A-Boards, or "sandwich boards" are a great way to promote your local business, and are one of the best marketing investments you can make for a location based business. Potentially hundreds or even thousands of people will walk past your location every single day. Your humble little sandwich board sign acts as a salesperson right on the street greeting every passerby with your specific message! Use A-boards to communicate specials and promotional offers, or simply use them to reinforce your branding, logo, and core messages. Penny for penny cheap sandwich board signs are one of the best location based advertising investments you can make.
Sandwich Board Sizes
Our A-boards are very durable and should last for years to come. Constructed with solid wood our A-boards are available in sizes of 24″ x 36″, 32″ x 48″, and 36″ x 48″.
PrintPrint.ca has been providing Vancouver businesses with high quality large format signs for over 13 years. We use industry standard sign printing technologies to create signs for local businesses from many different industries. Our signs are printed with UV inks which are fade resistant to sunlight and will help keep your outdoor sandwich board signs looking sharp and resilient.