Vinyl Lettering & Vinyl Stickers
Make a simple bold statement with vinyl letters and vinyl stickers.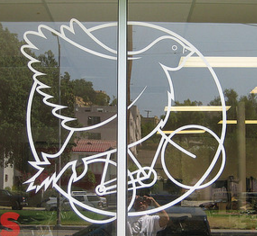 Cut vinyl is a bold and simple way to deliver your message to your clients and customers. Cut vinyl lettering is often used for glass door and retail window displays. You can use vinyl lettering to mark vehicles with their fleet number, or to prominently display your company web site address, or phone number on your company vehicle. There are virtually no limits to the number of practical uses for vinyl letters and stickers. Application is as easy as peeling away the backing, and applying to the surface of the install area!
From art gallery walls, to the windows of name brand retailers, there is a very good chance that you've encountered our vinyl before… without even knowing it!!
Our vinyl stickers are printed adhesive backed and can be printed reversed (second surface) to be inside facing out, for use on windows and see-through surfaces , or outside facing in, for use on walls and opaque surfaces. If you are not exactly sure of what you require, we are more than happy to assist you in selecting the appropriate vinyl lettering or vinyl sticker solution for your project!
PrintPrint.ca has been proudly serving Vancouver with the highest quality vinyl lettering and sticker printing solutions for over 13 years. Industry standard printing technologies are implemented in each custom vinyl job we produce. Contact us today to receive your hassle free custom quotation, or expert production or installation info!
Next day service
Same day
Coming Soon