The Difference Between Offset and Digital Printing
January 8, 2016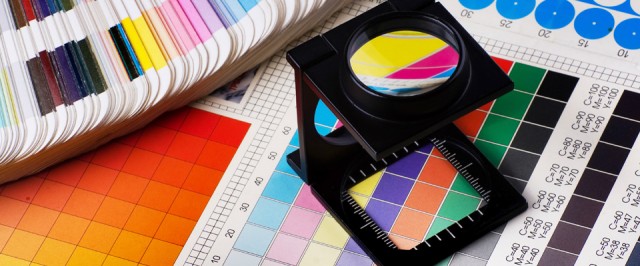 No matter what kind of print marketing you're producing, whether it's banners, brochures or plastic cards, it's important to understand the advantages and drawbacks of the main printing technologies. Offset and digital printing represent two of the most common printing processes and continue to set the industry bar for performance, reliability, and value. In this article, we take an in-depth look at offset and digital printing and help you decide which is best for your particular print job.
Offset printing is the leading industrial printing technique and is widely used for a range of products such as key tags, envelopes, posters, and brochures. Offset printing has changed relatively little since the first steam-powered printer was introduced in 1906, and the printing technique is noted for its remarkable image quality, long print run capacity, and cost-effectiveness.
In offset printing, a "positive" image containing text or original artwork is formed on an aluminium plate and then covered with ink, before being transferred or "offset" onto a rubber blanket cylinder. From there, the image is transferred onto a press sheet. Using oil-based inks, offset printers can print on virtually any kind of material provided its surface is flat.
The printing process itself involves layering ink impressions onto a predetermined printing surface, which each blanket cylinder applying a single layer of coloured ink (cyan, magenta, yellow and black). In this process, a print is formed on the surface of the page as each colour-specific cylinder passes over the substrate. Most modern presses also feature a fifth inking unit which is responsible for applying a finish on the printed page, such as a varnish or a special metallic ink.
Offset printers can print in one-colour, two-colour, or full-colour and are often set up to accommodate two-sided printing jobs. At full speed, a modern offset printer can produce up to 120000 pages per hour, making this printing technique an extremely cost-effective solution for those planning a large print project.
Turnaround with offset can often be bogged down by the make-ready and cleanup processes, which take place in between print jobs. To ensure colour fidelity and image quality, printing plates need to be replaced and the inking system cleaned before the printing process can get underway. If you're printing a standard design or have already worked with us before, we can reuse existing printing plates for reprint jobs, cutting turnaround times and reducing costs significantly.
At PrintPrint, we produce a wide range of offset-printed products and promotional items that are the perfect solution for your Vancouver business. We offer one, two or full-colour double-sided business cards which come in a number of different finishes (matte, satin, gloss, or dull) as well as fully-customizable offset plastic cards. For high-quality letterheads or envelopes, we recommend offset printing on 24 lb bond stock complete with a fine-grained white wove finish for added style and texture.
If you're planning a large print project in Vancouver, don't hesitate to call us to learn about your options using offset printing and other print processes.  
Digital Printing accounts for 15% of the total volume of print marketing products, and is one of the fasting growing printing processes on the market. Improvements in technology and image quality have made digital printing an increasingly important printing technique. Cost-effective, versatile, and offering low turnaround times, digital prints are perfect for rush jobs, small print runs and custom print projects.
Digital printers come in inkjet and xerographic versions, and can print on virtually any kind of substrate. Inkjet digital printers apply tiny droplets of ink onto media via ink heads, while xerographic printers function by transferring toners, a form of polymer powder, onto substrates before fusing them into the medium.
Digital printing is widely used to produce small batches of promotional material, including bookmarks, brochures, labels, trading cards, post cards, and wristbands. In recent times, however, in an effort to lower costs of small-scale projects, certain large format print applications such as banner stands and posters have begun to be printed using wide-format inkjets.
In digital printing, a file containing your project is processed by a Raster Image Processor (RIP) and then sent to the printer in preparation for the print run. In comparison to offset printers, digital printers require little to no servicing prior to, or in between, print jobs, and therefore offer quicker turnaround times than their offset printer counterparts. Nowadays, high-end digital printers are also able to bind, stitch, or fold print projects in-line, further reducing the cost of digital printing over offset. All in all, digital printing is a great option for high-quality low-budget short print runs, but offset still remains your best bet for most large-scale print projects.
As you can see, there are pros and cons to both offset and digital printing. Contact us here for more information on printing processes and how to determine which printing technique is best for you.