9 Sticker Marketing Ideas for Promoting Your Vancouver Business
December 9, 2015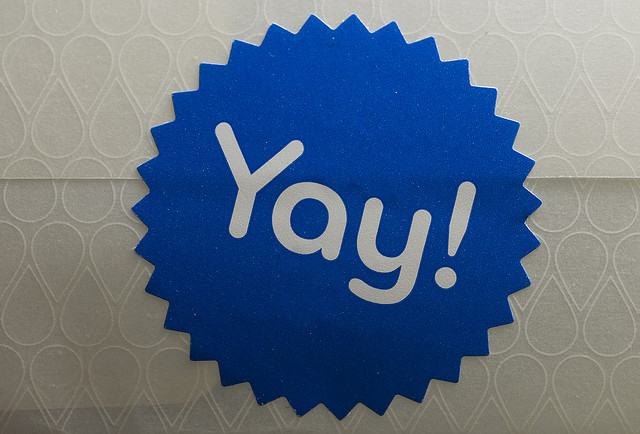 Sticker marketing is one of the best ways to promote your Vancouver brand in an effective and persuasive way. Promotional stickers and labels are both engaging and multi-functional, and can be affixed to all kinds of packaging, product displays, and other high-visibility settings. Depending on the aesthetic need, PrintPrint can produce anything from pocket-sized kraft stickers and building decals, to die-cut vinyl applications that are guaranteed to generate the direct response you're looking for.
The growing demand for new sticker marketing solutions and sticker design tips has led to an increase in the variety of surfaces that are now being used as print materials. Here, we take an in-depth look at sticker marketing, reviewing different surfaces, shapes and dimensions that are designed to increase the visibility of your product to potential customers.
Custom shape stickers stand out from traditional designs, and are more likely to catch your client's attention. Customers tend to respond positively to die-cut stickers featuring unique designs and original artwork because they recognise them as more difficult to produce. Top quality custom promotional stickers such as those produced by PrintPrint will remain etched in your client's memories, giving your brand an edge on its competitors. We recommend printing custom stickers on vinyl and paper, and clients can request specific shapes, text, artwork, and other details.
Remember, stickers are not only supposed to enhance your brand image, they should also transmit information and contribute to making a sale. The most effective sticker marketing campaigns are achieved through a combination of quality visuals and sheer numbers, so don't hesitate to place a bulk order.
Promotional Stickers
Printing promotional stickers is a great way to boost brand familiarity and build up solid customer-company bonds. As we showed in this post, promotional merchandise printing is one of the most cost-effective print marketing strategies. With some of the lowest CPI's in the industry and a high brand retention rate, sticker marketing is one of the best ways to reach out to customers these days. Promotional stickers are easy to design, affordable, long-lasting, and can be affixed to any packaging or hard-to-reach surface.
Whether they're glued to the back of a car, a lamppost, a laptop or a retail window display, promotional stickers draw attention and capture the eye like no other marketing material.
An attractive label can increase the impact your product has on your target audience, creating a special bond between your client and your brand. Speaking about attractiveness, it's hard to beat foil stickers for allure and sophistication.
Foil sticker stock is available in gold, silver or bronze, and is the marketing material of choice for upscale food and beverage manufacturers. Foil stock is found in food labels, awards, and seals, and can be custom embossed to add sophistication and style to your packaging or sales materials. A low-budget option that comes with an easy-to-use adhesive backing, this marketing material can be full-colour printed on one side and is guaranteed to grab your audience's attention.
For more information on our print schedule or other details, view this page.
Vinyl is a great sticker marketing material suited for both outdoor and indoor use, and is available in a number of colours and shapes. These adhesive-backed applications are extremely durable and tear-resistant, and can be die-cut to fit your specific labelling needs. Our vinyl stickers represent the pinnacle of outdoor sticker marketing and have an expected life of seven years. If your promotional sticker is the right shape and size and is placed correctly, with vinyl, it can potentially garner thousands upon thousands of views.
Needless to say, vinyl stickers are easy to use and come in a variety of shapes, including die-cut designs that are suitable for a range of different surfaces and marketing purposes. See-through die-cut vinyl labels can be found on shop windows and display areas, while opaque vinyl labels tend to be used on walls and other low reflective surfaces. We print stickers with a wide range of inks and offer our clients an array of vinyl stocks.
If you're not sure which vinyl stock suits your needs or would like us to share some sticker design tips, contact us today.
With its all-natural look and textured feel, kraft stock is the perfect print solution for brands and businesses who put a premium on eco-awareness.
Kraft's distinct dark brown colour makes it stand out on indoor shelf displays and is warm and inviting to the eye. This rustic-looking material is a suitable option for a range of applications; everything from food packaging and technology to promotional items and more. We print our self-adhesive kraft stickers in full colour.
Roll stickers are an easy and affordable way to order promotional stickers or labels in bulk. These stickers can be custom designed to accommodate special shapes or artwork, and come in a wide range of colours and printing options. These stickers are durable and built to last, and are available in no colour, two colour, and full colour.
Roll stickers are the perfect sticker marketing solution for sports events, concerts, festivals and other outdoor activities, as they can be printed within the day and handed out just as quickly. In addition, roll stickers tend to be used as packaging labels and tags, and are noted for their exceptional richness and image quality.
Click here to place your roll sticker order today.
Bumper stickers are affordable, fun, and are a highly effective way to reach out to potential customers. These applications make great promotional stickers and can be handed out at sports events and concerts as part of a merchandise bag, or sold at your store.
Whether it's your company logo, unique artwork, or text, bumper stickers can be custom designed to reflect your organisation's style and values. Click here for more details and sticker design ideas.
Digital stickers are the easiest and fastest option for those who need to print a large batch of stickers in a rush. All our digital stickers are printed on a self-adhesive, gloss-coated paper stock instead of vinyl, and can be made to fit a number of sizes and client specifications, including use as packaging labels.
We encourage our clients to play with size, colour and shape to help your message stick in your audience's mind, so don't hesitate to request sticker design tips and suggestions. For more information on digital stickers or to get in touch with one of our customer sales representatives, click here.
Barcode stickers are an essential part of any successful inventory management strategy, as everything from books and binders to a variety of other store items have barcodes on them. With their self-adhesive backs, these applications can be affixed to virtually any surface, including cardboard, glass, and ceramic. 
For the best results, request our barcodes with serialised numbering. We print barcode stickers by the roll and or in smaller quantities, and can accommodate businesses of all sizes. For more information on barcode stickers, click here.
Sticker Marketing Ideas
Finally, if you feel we missed something, or would like to discuss alternative stickers printing projects with us, please do not hesitate to contact us here. We offer a range of custom sticker marketing options that are the perfect solution to all your needs.